Used FX Streamline .177 Walnut w/ Hawke 4-16×44 Scope SKU 92223.3
FX is known to be one of the foremost makers of high-end, high-performance air rifles. The FX Streamline takes all of that performance, accuracy and quality and has for the first time put everything you love into a more affordable package for many airgunners at almost half the cost of similar FX models. Aptly named, FX have simply streamlined their top of the line world-class air rifles into this new model.
This FX Streamline Synthetic features a robust ambidextrous all-weather synthetic stock with a soft touch coating for improved grip. The gun is manufactured from high grade aluminum that features a finger-print resistant finish. The gun itself is incredibly light due to the aluminum coming in at just 5.75 lbs without a scope. So once you have the optic of your choice mounted on the Streamline, you should still have a rifle weighing well under 7 lbs. This makes it a fantastic field gun, quick to point and easy to carry for long stretches.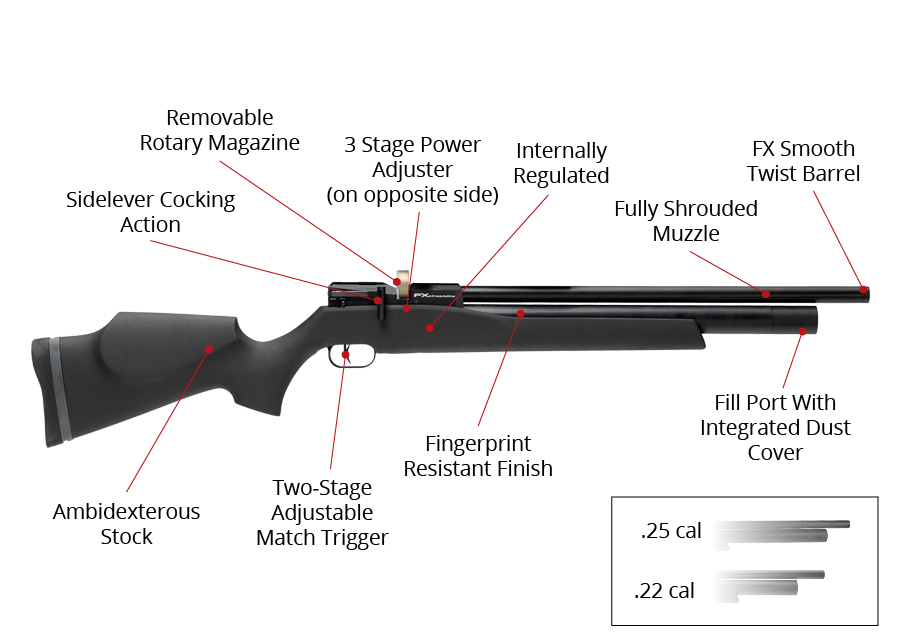 Features include a smooth side-lever cocking mechanism, manual safety located just underneath the cocking lever, the FX two-stage match trigger, an 11-shot rotary mag (10-shot in .25 cal / 13-shot in .177 cal), and a 3-step adjustable power selector. The rotoary mag is a newer shorter in length FX rotary mag that allows the use of medium rings for a nice low profile with the scope of your choice. The hammer-spring can be adjusted at the back of the breech. The barrel is fully shrouded, if you?d like further sound suppression simply pick-up additional middle standard moderator sections in your caliber. Of course the shroud is wrapped around the world class FX Smooth Twist barrel. Simply the best barrel system for pellets we've ever shot. Much has been written about this technique, but essentially it is a smooth bore barrel for the first 95% of the barrel, allowing the pellet to achieve maximum velocity, which is then twisted at the end with externally indented rifling (so not traditional rifling that can leave imperfections) that introduces the perfect amount of stabilizing spin to the pellet.
The air cylinder has been more fully integrated into the breach block than previous FX air rifles. This results in a more efficient design that saves weight and… yes, streamlines the design. The onboard air cylinder is a non-removable 190cc cylinder (250cc in .25 caliber) and filled via fill probe at the top of the air cylinder just below the manometer to show how much pressure is in the cylinder. Expect to obtain 60 full powered shots in .22 caliber (50 in .25 cal) with a full fill. The air port is covered by an integrated dust cover.
FX Streamline Walnut Features
Used, excellent condition
Comes with used hard case, fill probe
Walnut stock
Sidelever cocking action
FX Smooth Twist Barrel
Rotary Magazine fed action
3-step power adapter to lower power and extend shot count per fill
Full adjustable two-stage match trigger
internally regulated
Comes with 2 magazines
Non-removable 190cc aluminum air cylinder (250cc in .25 cal)
Max fill pressure is 230 bar (3,300 psi)
Aluminum cylinder, shroud and action features a fingerprint resistant finish
Quick fill port with integrated dust cover (uses FX fill probe)
Velocity tested at 722 fps using 13.43 gr pellets.
Sold " as is" No returns.
Not eligible for free shipping
[/vc_column_text]
Condition: New MSRP: $649.99 You save $100 Includes 1-year limited warranty (factory) Cannot be shipped filled with air
Condition: New MSRP: $849.99 Includes 1-year limited warranty
Condition: New MSRP: $499.99 Includes 1-year limited warranty
Condition: New Includes 1-year limited warranty (factory) Cannot be shipped filled with air
Condition: New MSRP: $299.99 You Save $30 Includes 5-year limited warranty
HN Baracuda Hunter Extreme | .22 cal, 18.52 gr, 200 ct Hollowpoint .22 caliber 18.52 grains 200 pieces
.177 cal 13.4 grains Domed 4.52mm head size 400ct Made by pellet powerhouse JSB in the Czech Republic, FX pellets are sure to deliver premium performance in all of your airguns. Pick up a tin for your arsenal and...
JSB Simply .177 Wadcutter Pellets, 8.02 gr, Flat nosed, 500ct New !  8.02 gr .177 caliber | 4.5 mm Wadcutter shape 500 pcs Made in the Czech Republic by JSB
Hollow Point expanding design .177 caliber 9.57 grains 4.50 head size 400 pieces
.25 cal 25.39 grains Domed 350 count Made by premier pellet manufacturer, JSB in the Czech Republic, FX pellets are some of the best that money can buy. Made to provide the quality and consistency that competition shooters...